Bennett Quoted in Missouri Lawyers Weekly Article on Trial Strategy
Jim Bennett led the Dowd Bennett team that included partners Gabriel Gore and Jennifer Kingston, who together secured a $7.6 million verdict for Monsanto Company following a six-day  jury trial in St. Louis County Circuit Court.  That award was the 17th largest of the "Top Plaintiff Wins in 2010" in the State of Missouri, which ranks both verdicts and settlements.  The Dowd Bennett win for Monsanto represented the 7th largest jury verdict in Missouri in 2010.  Bennett was interviewed for the article below as part of the "Top Verdicts and Settlements of 2010" published by Missouri Lawyers Weekly on January 31, 2011.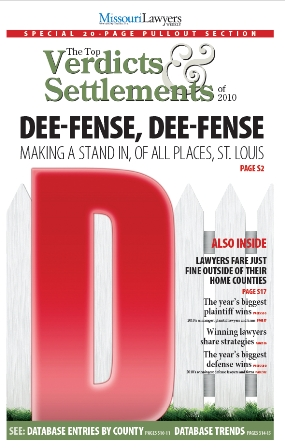 Victorious lawyers reveal their strategies
Want to rack up your own wins? Read the inside story of some of the year's legal tours de force
By Allison Retka, Missouri Lawyers Weekly
To Norm Siegel, when it comes time to begin the tumultuous settle­ment process, common ground is the best place to start.
Even if the case involves con­tentious issues and the two sides wildly differ on a settlement value, "we try to focus on things we can agree on," said Siegel, a Kansas City attorney with Stueve Siegel Hanson.
Leave numbers out of the picture and speak openly with opposing counsel about less contentious elements, Siegel said, such as the structure of the settlement or its non-monetary components. Building trust during the earlier, easier parts of a settle­ment will help you negotiate its thornier parts.
Siegel is one of a handful of lawyers who secured the largest plaintiff and defense victories in Missouri in 2010, as reported to Missouri Lawyers Weekly. His leadership of two national class action suits brought in a combined $20.4 million in settlement dollars for consumers and nabbed the No. 7 and No. 12 plaintiff wins on the list.
Below, other victorious attorneys reveal the strategies that helped them nab multi-million dollar settlements and verdicts, or successfully spare their clients from simi­larly hefty amounts.
Costly defense strategy pays off
In an attempt to prove that their wood was not to blame for a structure collapse that killed a man, Heartland Wood Products Inc. authorized defense attorney Debbie Champion to hire an expert to build an exact replica.
In a wrongful death trial in New Madrid County, defense attorney Debbie Champion played an expensive game of "show-not-tell" that prompted a jury to clear her client of negligence.
The client, Heartland Wood Products Inc., faced the claims over the death of Sikeston resident Lance Simmons. While construct­ing a home for his family, Simmons, 30, fell from a broken truss and died. His family alleged Heartland Wood Products supplied the wrong type of wood for the project and bore the fault for his death.
Heartland Wood Products did admit that it supplied Simmons with the wrong grade of wood. But Champion countered that Simmons and his father bore the fault for departing from installation instruc­tions and inadequately securing the truss.
To prove this, Champion hired engi­neering expert, Kirk Grundahl, who con­structed a replica of the accident scene in a warehouse in Wisconsin. Grundahl conducted experiments on the replica, and showed that if installed properly, the lower grade of wood remained intact, even as his workers strolled along the truss and sat at its peak.
Champion showed videos of Grundahl's experiments to the jury.
"It was a very expensive process to rebuild the entire frame of a house," Champion said. When she first approached Heartland Wood Products with the idea for the re-creation, which ended up costing tens of thousands of dollars, the company's leaders hesitated.
"They met and met and met again," she said. "Finally, they said, 'Let's get this done.'
"You have to make a decision as to what it's worth to explain this to the jury."
The financial risk paid off for Champion's clients, who were facing a $2 million last demand. The New Madrid County jury de­liberated just over an hour before return­ing with a defense verdict. They decided Lance Simmons was 50 percent at fault for his death and his father, James Simmons, was 50 percent at fault.
Champion, who also successfully de­fended Dierbergs from a $1.2 million slip-and-fall case last year, achieved the de­fense verdict while maneuvering around the always-difficult issue of directing fault towards a deceased individual loved and missed by his family.
"There was not a minute where I didn't re­alize that I was dealing with the legacy of… a man who was very loved," she said. "But people make mistakes. We tried to under­score the importance of not trying to blame an improper party for those mistakes.
"It's not a blame issue. It's simply a fact issue."
Forcefully exposing excuses
It's not the easiest task to humanize a billion-dollar company, but Jim Bennett did just that and, for his efforts, won a $7.6 million verdict for Creve Coeur-based Monsanto.
The St. Louis County win nabbed the No. 17 spot on Missouri Lawyers Weekly's list of top plaintiff victories.
"The jury awarded us exactly what we asked for — every penny," said Bennett, an attorney with Dowd Bennett in Clayton.
Monsanto had sued Houston-based ConocoPhillips over its two-year failure to deliver enough petroleum coke from a California refinery to a Monsanto manu­facturing plant in Indiana. Monsanto used the fuel to make Roundup herbicides.
The contract breach marred a fairly healthy 40-year relationship between the two companies, and to highlight that long corporate history, Bennett called upon some institutional knowledge: Dan Schettler, a retired Monsanto executive.
"He took the jury through every portion of the contract," Bennett said. "It was re­ally nice to have a person who essentially took ownership for the reason Monsanto signed the contract."
Bennett also used technology to expose the shifting explanations that ConocoPhillips representatives gave for the delivery errors. While cross-examining defense witnesses, Bennett would solicit the witness' current stated reason for the error. Then, Bennett would play a clip from the same witness' vid­eo deposition, exposing his prior excuse and projecting the inconsistent testimony onto the wall of the courtroom.
One witness sat there while Bennett con­fronted him about 10 separate inconsistent statements he made. Bennett said he didn't follow up the video clips with further ques­tions; he let the inconsistencies speak for themselves.
"It has much more force that way," he said.
Struggling with gaps in evidence
Bereft of crucial medical records and lacking the depositions of any treating physicians, Richard Hunsaker nonetheless fended off a hefty medical malpractice suit lodged against his client.
His victory captured the No. 8 defense win in Missouri last year.
Hunsaker, an attorney with Edwardsville, Ill.-based Heyl, Royster, Voelker & Allen, achieved his defense victory in the U.S. District Court for the Eastern District of Missouri, an odd venue for a medical mal­practice case. The suit was filed in federal court for the same reason evidence in the case was so hard to track down: the plain­tiffs are Israeli citizens.
Maizie Avichail sued St. John's Mercy Health System and nurse Geraldine Jones — Hunsaker's client — alleging her 9-year-old daughter, identified as T.A., suffered brain damage after a 2003 surgery she re­ceived in St. Louis. While recovering from a tongue reduction surgery, T.A.'s oxygen saturation levels dropped notably for a four-hour period.
Avichail claimed her daughter, who was born with an overgrowth syndrome, was never the same after the surgery. T.A. was prone to violent tantrums and unable to attend a traditional school.
Hunsaker said it was hard to obtain med­ical records housed in Israel, and he wasn't able to depose any of the doctors who treat­ed T.A. before or after the surgery.
That lack of evidence left big gaps in the case, he said.
"I don't know there's any case I've had where I'm going in without all the re­cords," he said.
To fill the gap, Hunsaker called in autism experts, who testified that the onset of puber­ty may have caused T.A.'s changes in behavior. At one point, he emphasized the absence of evidence for a strategic purpose: to highlight the plaintiff's decision to not produce the doc­tors who treated T.A. after the surgery.
"I argued that because the plaintiff had the burden of proof, the jury ought to con­sider why they didn't bring commentary on that point," Hunsaker said.
In another stark difference between a state malpractice case and a federal mal­practice case, Hunsaker faced a time con­straint for his closing argument. In a cir­cuit court case, he usually speaks for 45 minutes. In the Avichail case, he had less than 25 minutes to make his point.
Ten minutes before his rose to give his ar­guments, Hunsaker made a decision. "I had to really streamline my closing," he said.
He focused solely on the actions of Jones, his nurse client. Once Jones realized that T.A.'s oxygen saturation dipped, "she was all over it," he said. "She called the sur­geon. She even stayed beyond her shift to help out."
He told the jury, "You should judge her by the most important thing she did that day as a nurse. And no one's critical of her response."
The jury deliberated for about two hours before returning a verdict for the nurse and hospital defendants.
Copyright 2011 Missouri Lawyers Media
In this article: