Dowd Bennett Supports the 2015 Walk to Defeat ALS®
On Saturday, June 27th, 5,000 people came out to Forest Park to participate in the yearly Walk to Defeat ALS®.  This year's walk was the largest walk in the history of The ALS Association St. Louis Regional Chapter, and raised $412,908.28 to fund patient care for those who otherwise might not be able to afford it and support research efforts to find a cure for this devastating disease.
In its seventh year, Team Tammy Hardy raised over $25,000 and proudly walked in honor of Tammy Hardy, Kelly J. H. Murrie's sister who lost her battle with ALS in November of 2008.  Tammy was a fighter and Team Tammy Hardy continues to fight against ALS in remembrance of her.
Amyotrophic Lateral Sclerosis (ALS), which is more commonly known as Lou Gehrig's disease, is a fatal, neuromuscular disease that slowly deprives its victims of both their mobility and their ability to breathe.
For more information about ALS and The ALS Association St. Louis Regional Chapter, please visit their website at www.alsa-stl.org or call (888)873-8539.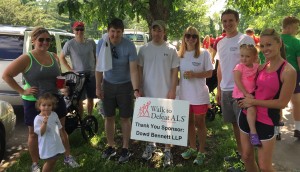 In this article: